Friday, August 23, 2019 is a day that many will never forget. On this day, one of our teachers, Mrs.Emily Auffenberg, lost her brother and friend. Officer Nick Hopkins was killed in the line of duty, while serving a house warrant. Emily says, "He was doing what he loved." While this does not make losing someone any easier, it does bring comfort knowing that Nick was a hero who paid the ultimate price while protecting and serving others.
As a way of support, the Central 104 staff and students came together to raise money for the Hopkins family. On September 23 students wore a crazy hat or crazy socks with a donation to the family. Typically students bring in $1 to participate in this fun day, but this time they went above and beyond. Not only did students bring in large donations, but they also donated without participating. The donations continued to pour in throughout the week. Superintendent, Ms. Dawn Elser, emailed the staff the following statement,"The Central 104 Family has once again proven how it comes together to support one another. A check will be donated to the Hopkins Family in the amount of $1926.70. Thanks to all of you and the families of Central School District 104 for your generous donations!"
Here is a special thank you from Mrs. Auffenberg to the staff, students and parents of the school district.

One of the songs played at Nick's service was Rescue by Lauren Daigle. Part of the song goes "I will send out an army to find you. In the middle of the darkest night, It's true, I will rescue you". The song brings me a lot of hope. The love and support from Central 104 has been an army to encourage me through one of the most difficult times of my life. The cards, messages, flowers, gifts and donations were greatly appreciated. Thank you for being there for my family and me. I deeply appreciate the thoughts, prayers, and support. It's still just the beginning of a difficult time.
As teachers and parents, I encourage you to help: Be an organ donor, Equip our students to learn to be difference makers, Provide problem solving situations so our students can be challenged to make better situations for their future, Teach tolerance and understanding of diversity, Pray for the suspects, Pray for my family and Nick's children
A quote my brother lived by as it was taught from my grandpa: You cannot do a kindness too soon, for you never know how soon it will be too late.

Sincerely, Mrs.Auffenberg
Officer Hopkins' wife, Whitney, wrote the following thank you note to the school district after receiving the donation.
Thank you from the bottom of our hearts for supporting us through this incredibly hard time. We have felt your love and prayers. I cannot begin to express how much it means to us the gift you have sent and the support you have all shown. Thank you.
Sincerely, Whitney Hopkins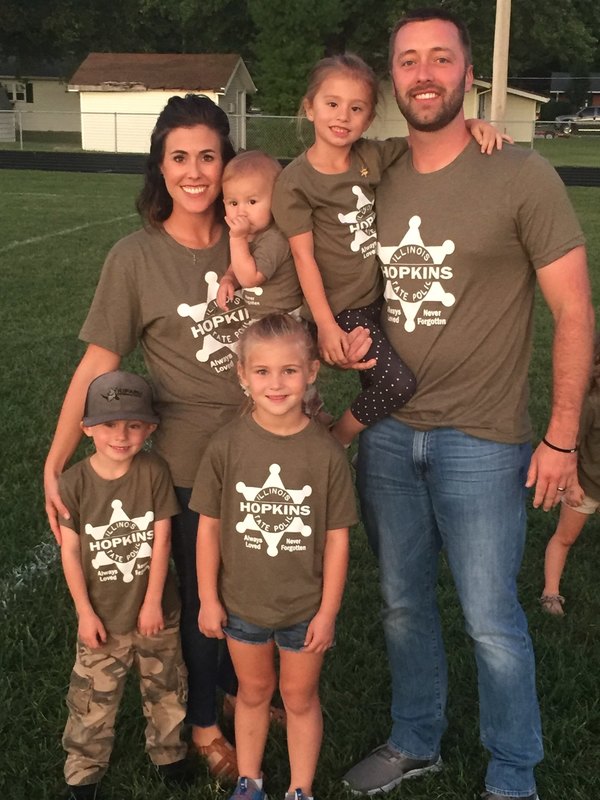 Pictured: Mrs. Auffenberg and her husband, Mike, along with nieces and nephews
Continued Support for the Hopkins Family
If you are looking for ways to continue supporting the the family of Officer Hopkins, please consider donating to The BackStoppers. See link for more details https://backstoppers.org/assisting-the-family-of-trooper-nick-hopkins/